Praia do Amado
Praia do Amado
Praia do Amado offers a lot of variety on many different wave conditions. It has great right and left running waves so offers waves for both goofy and regular footed surfers.
Tides do not effect waves and it can be surfed generally all year round, being one of the most consistent in the Algarve as it is open to all Atlantic swells, while still being sheltered by the north west winds.
Amado beach is in a protected area where no development is allowed so the Surf Schools and Accommodation are located in towns such as Lagos and they travel to Amado beach each day to surf.
Beach break – lefts/rights – some low rocks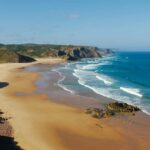 Activities near here
Explore these things to do