The Top 5 Algarve Water Sports
The Top 5 Algarve Water Sports
If laying on the beach catching some rays isn't satisfying the adventurous streak in you, then we've got the perfect solution for you. Whether you're a total thrill seeker, or are just looking to get a bit out of your comfort zone, we've put together a list of the top 5 Algarve Water Sports that won't leave you disappointed.
The international, well travelled team over at Algarve Water Sport have certified instructors and a motivated smiling team who will be happy to help you satisfy your hunger for adventure!
1. Stand Up Paddle Boarding (SUP)
It's the sport that dreamy Insta posts are made of. Think picturesque sunrise, calm waters, and starting your day truly getting acquainted with the natural beauty the Algarve has to offer. What better way to start your day?!
You may think that SUP is a relatively new sport, but in fact Polynesian tribe-kings used to surf this way for centuries. Water-men, like Dave Kalama and Laird Hamilton, made this kind of surfing popular again and demonstrated the huge potential of Stand Up Paddling (SUP) with or without a wave.
Stand Up Paddle boarding is a great activity for all of the family, and whilst you will need to be a confident swimmer, your level of water sport experience isn't important for this one.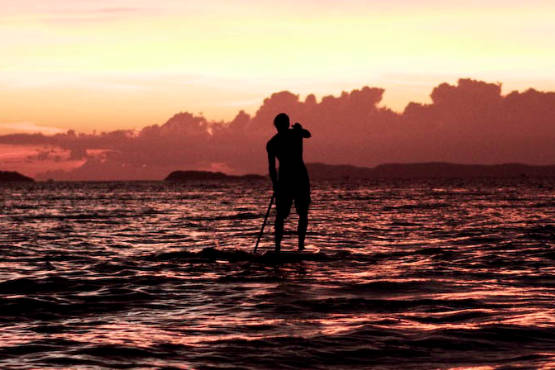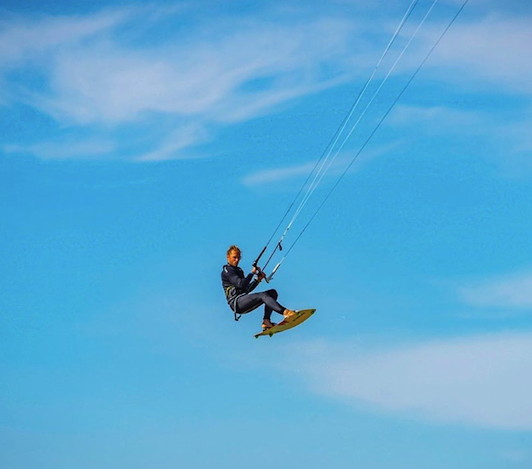 Heading out into the ocean with a giant kite strapped to your waist can sound pretty scary, but the more adventurous among us will certainly argue that this thrill seeking sport is worth giving a go.
If you're already a confident kiter, and just want to hire some equipment and get some local insider knowledge, the kite surfing team at Algarve Watersport will be able to get you equipped with everything you need.
If you're completely new to the kite surfing world, that's completely fine too. You can choose from a one off lesson, or totally immerse yourself in Kite Camp. We can't promise you'll come out as a pro, but we can promise you'll have fun!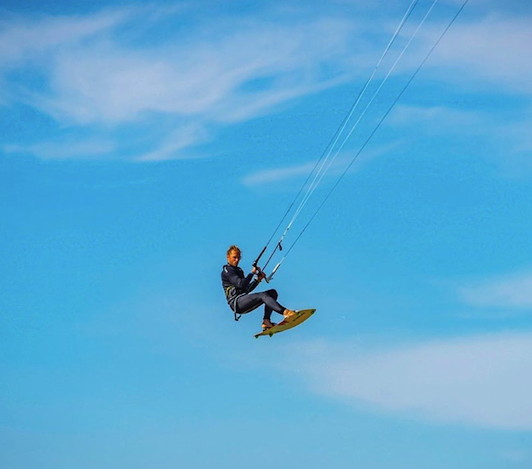 With the perfect location of the lagoon between Lagos and Alvor, conditions are excellent for both learning and practising windsurfing in the Algarve. Beginners start in the shallow water, where you can easily slide and enjoy your first rides as a beginner. Those feeling more adventurous can improve their daring freestyle manoeuvres as a more experienced windsurfer. The sheltered lagoon is blessed by the reliable and powerful Nortada wind. During the course of the day, the warm wind gets accelerated by the surrounding landscape and offers ideal conditions for beginners and windsurfers at an advanced stage to learn new windsurf moves safely and quickly.
From relaxed cruising to radical freestyle and wave riding, this water sport affords pleasure for everyone! Ready to get involved? Find out more about the Algarve Watersport windsurfing options here.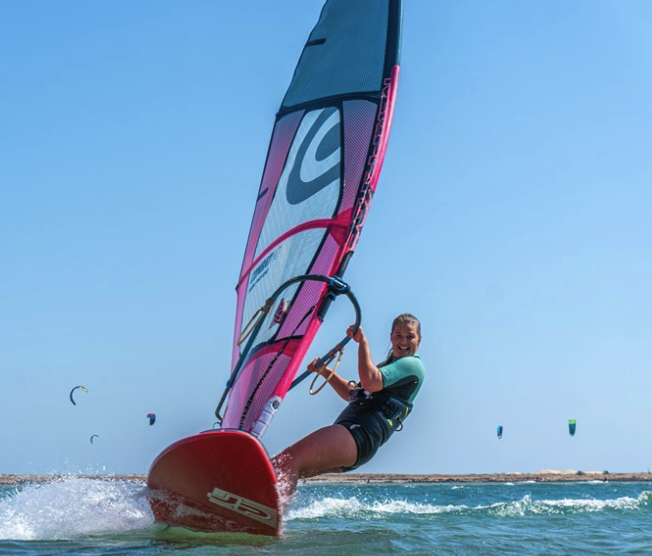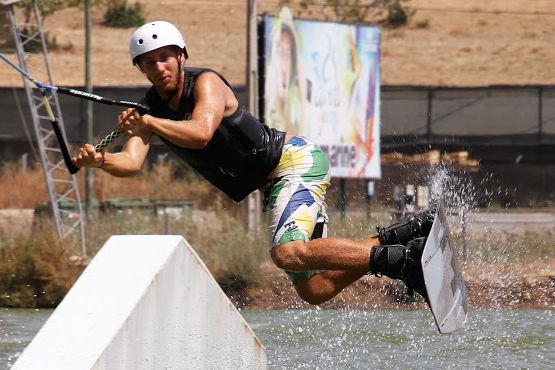 Those considering wake boarding in the west Algarve are spoilt for choice, with a wake park, wake boat, or wake camp, or all three!
"Wakeboarding is like snowboarding on the water"… is a phrase commonly mentioned by boarders after trying this adventurous sports for the first time. While you wakeboard, a boat or a lift pulls you over the water. At Algarve Watersports wake camp in Portugal, the brand-new wakeboard boat Mastercraft X-Star is waiting for you just a few minutes on foot from the marina. Additionally, you will reach one of the first 2.0 wake parks in Portugal with a lot of kickers and sliders within 5 minutes with their camp bus.
A recent reviewer wrote "Time stops in here. I had a feeling it's my home and I don't want to leave. Great instructors that really want to teach you something useful, friendly atmosphere, amazing food and beautiful city with old architecture nearby. The kind of place that you dream of." Find out pricing and more details here.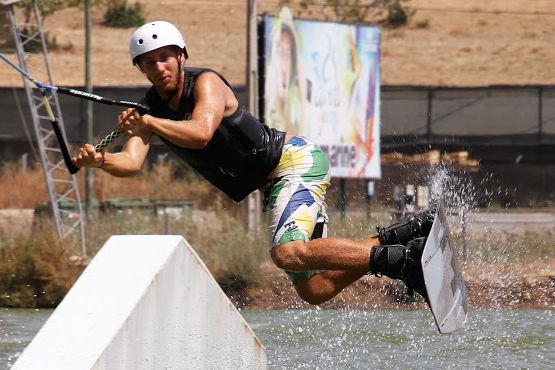 This is probably the first thing that springs to mind when you think of water sports in the Algarve, and there's a good reason why! Our southern coast has some great surf spots, and with certified and knowledgable instructors, you'll be taken to the beach with the correct conditions for your ability.
You can hire everything you might need from Algarve Watersport, from your board and wetsuit, to finding a fun teacher to show you the ropes out on the waves. Just pack your suncream and your sense of adventure and head down to the beach!